2 Aug
Andor Launches Marana
Large Field of View, Deep Cooled Back-illuminated sCMOS for Astronomy and Physical Sciences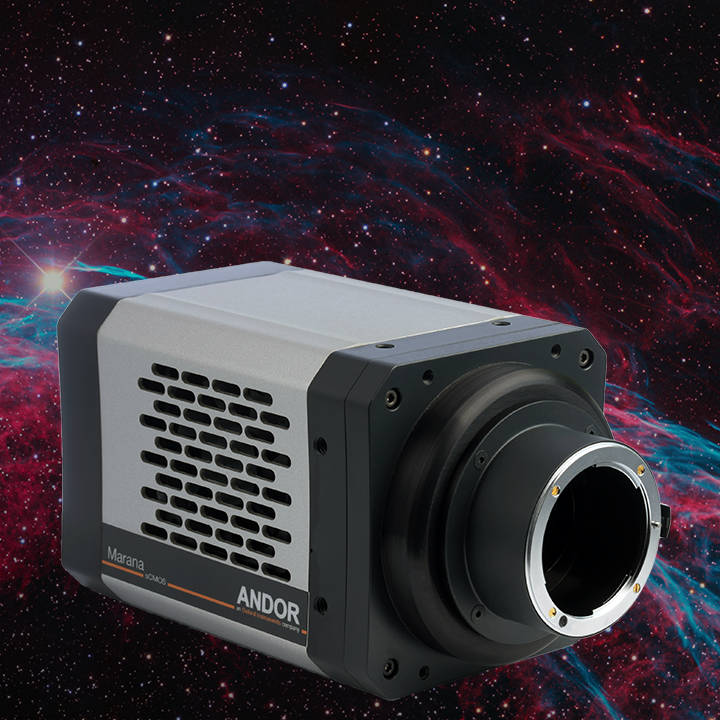 Andor Technology (Andor), an Oxford Instruments company and world leader in scientific imaging and spectroscopy solutions, today announced the launch of the new ultrasensitive 'Marana 4.2B-11' back-illuminated camera platform for physical sciences. Featuring 95% Quantum Efficiency and market-leading vacuum cooling down to -45 °C, Marana represents the ultimate in sCMOS sensitivity and high dynamic range photometry. Marana 4.2B-11 is also the largest field-of-view sCMOS commercially available, whilst delivering up to 48 fps, perfectly suited to 'dynamic astronomy' applications such as Space Debris tracking, Near Earth Object detection and Solar Astronomy.
Marana 4.2B-11 combines a 4.2 Megapixel array format with 11 µm pixels, enabling an impressive 32mm sensor diagonal. The full 2048 x 2048 array is accessed through implementation of Andor's unique 'Anti-Glow' technology, meaning the full sensor area is usable across a wide range of exposure durations.
Marana delivers the highest and broadest sCMOS QE profile available, maximizing at 95%. A UV-enhanced option maximizes response across the wavelength region between 200nm and 400nm, enveloping both 266nm and 355nm laser lines and presenting a strong solution for applications such as Wafer Inspection and Ultra-cold Ion measurements.
The combination of back-illuminated QE, low read noise and Andor's innovative UltraVacTM vacuum cooling approach simply render Marana the most sensitive back-illuminated sCMOS platform on the market. The hermetically sealed vacuum enclosure also uniquely protects the delicate and exposed sensor from attack by moisture and other gas contaminants, thus preserving both QE and cooling performance year after year.
Marana excels in the area of quantitative measurement. A wide dynamic range of 53,000:1 is complemented by enhanced on-head intelligence to deliver market-leading linearity of > 99.7% for unparalleled quantitative accuracy of measurement across the full dynamic range. Such capability is ideal for 'one-shot' imaging and photometric accuracy in high dynamic range targets such as transit exoplanet photometry.
Dr Colin Coates, Andor's Imaging Product Manager, said; "Marana 4.2B-11 represents a compelling solution to a range of astronomy and physical science imaging challenges. As well the enhanced sensitivity capability and dynamic range, the large sensor area will help our astronomy customers to see more sky, ideal for tracking applications. The rapid frame rate capability renders the camera useful for high time resolution astrophysics, for example in pulsar studies, and also dynamic quantum research experiments. Integrated with Andor's spectrograph range, Marana also offers blazingly fast spectroscopy modes, capable of monitoring rapid kinetic processes and reactions at thousands of spectra per second as well as presenting a solution for fast multi-fibre hyperspectral imaging applications."
For more information, please visit https://andor.oxinst.com/products/scmos-camera-series/marana-scmos