02 October 2013
Oxford Instruments introduces TKD sample holder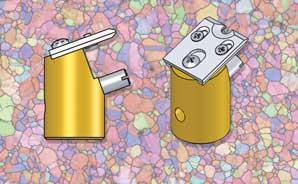 Oxford Instruments has introduced a sample holder specifically designed for TKD analysis. TKD, Transmission Kikuchi Diffraction analysis, is a relatively new microanalysis technique that is used to characterise grains that are typically only tens of nanometres wide – a fraction of the size that traditional EBSD can address. The new holder holds the sample in the correct orientation for TKD analysis inside the SEM.
TKD uses conventional EBSD hardware and software, but the samples are thin and electron transparent. As the diffraction signal is obtained from a few to tens of nanometres above the bottom of the sample surface, the technique is sometimes referred to as transmission EBSD (t-EBSD). Sample preparation is important, as is being able to mount it in the correct position inside the SEM. The sample is typically mounted above the top of the EBSD screen, typically at a short working distance.
EBSD Business manager, Dr. Jenny Goulden, stated, "This new sample holder is designed for easy mounting and positioning of the thin sample. Once mounted, the user uses the standard AZtec EBSD system to acquire and analyse the results."
For more information on the TKD sample holder please visit www.oxford-instruments.com/tkd.