13 July 2022
New Cypher L Atomic Force Microscope Provides Higher Resolution and a Simpler User Experience for Core Nanoscience Research Fields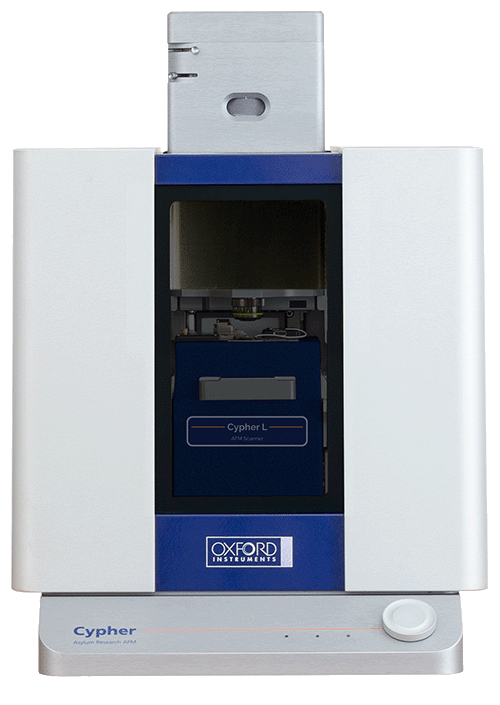 July 13, 2022 (Santa Barbara, CA) Oxford Instruments Asylum Research today announced the launch of the new Cypher L atomic force microscope (AFM). Based on the acclaimed high-performance Cypher AFM platform, the Cypher L is designed for researchers who need core AFM capabilities in research markets including polymers, 2D materials, quantum technology, and energy storage. The Cypher L provides higher performance than other AFMs in this segment, approaching the ultra-high performance of its Cypher S and Cypher ES family members, while remaining affordable and accessible to typical research funding sources. The Cypher L is the first AFM operating exclusively on the new Asylum Research Ergo software platform, which provides a streamlined workflow and imaging automation for a simplified user experience. The Cypher L is the only AFM in this market segment that is specifically designed to be upgradeable, which allows researchers to invest in a quality AFM platform and then upgrade to add new capabilities as they need them.
"The Cypher L will set a new, higher performance standard for research AFMs at this price point. Many researchers need a higher performance AFM that provides core characterization techniques without all the added complexity and expense of more advanced modes and capabilities," said Mario Viani, President at Asylum Research. "Other AFMs in this segment try to do everything but fall short in performance because they are built on outdated AFM platforms. The Cypher L enables researchers to buy a top-tier research AFM and then upgrade as their requirements evolve."
The Cypher L is available now and joins the rest of the Asylum Research Cypher AFM family. The Cypher S is the next step up from the Cypher L and features ultra-high resolution, faster scanning, and a vast range of supported imaging modes. The Cypher ES adds exceptional environmental control capabilities to the platform while maintaining the ultra-high performance of the Cypher S. Finally, the Cypher VRS1250 is the pinnacle of the Cypher family, adding high-speed imaging at true video-rate speeds up to 45 frames per second. Cypher customers can upgrade from any point in the AFM family to the more advanced models.
Learn more about the Cypher L at: https://AFM.oxinst.com/CypherL