10 November, 2016
Innovative Approach for Tracing Filaments in Dense 3D Neural Networks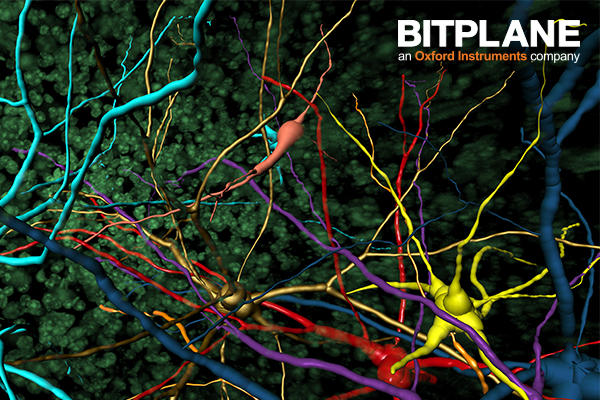 Dedicated to Neuroscientists - Imaris 8.4
Belfast, Northern Ireland, 10 November, 2016
Bitplane, an Oxford Instruments Company and world leader in 2-4D image visualization, analysis and interpretation, have announced the launch of Imaris 8.4 in advance of the Society for Neuroscience Annual Meeting in San Diego.
In recent years, a steady growth in sample clearing and labelling techniques such as CLARITY, PACT, uDISCO, PARS and CUBIC has been observed. This growth, when coupled with advanced microscopy techniques like light sheet, ultramicroscopy and spinning disk confocal have contributed greatly to the visualization of entire brains and nervous systems with cellular resolution. Researchers, however, still face the challenge of being able to trace dendrites and spines in dense neuronal networks, often within very large datasets.
Imaris 8.4 addresses this challenge by introducing a new and innovative approach to tracing neuron structures in 3D images. TorchTM, a patent-pending tool which intuitively highlights structures in close proximity to the cursor while darkening the rest of the image, enables users to efficiently and accurately trace individual neurons within dense and thick samples. Improved depth visibility makes tracing in thick samples easier than ever before, allowing for the selection of a dynamic region of interest for tracing. All of this possible with terabyte-sized datasets.
Autopath, which automatically calculates the best fitting path along a filament, has now been equipped with the ability to begin tracing immediately after choosing a start-point, pause calculations and restart them again from the same point. This is a feature particularly useful for those examining long filaments inside complex structures. Autodepth, automatic depth detection for 3D filament drawing, has been given auto-snap functionality, resulting in faster and more efficient tracing every time.
In this latest release, Reference Frame, a freehand xyz coordinate system, Zoom function and Snapshot tool have all been completely redesigned to provide the ultimate, intuitive user-experience when analysing your data and creating stunning images to share with the world. To further support Neuroscientists in their research, the freely available IMS File Converter has also received an overhaul. In IMS format, you can view and interact with large datasets within seconds. Drag-and-drop multiple files to the conversion queue, even while an existing process is taking place. Big data users will also benefit from the freedom to select the number of threads utilised during the conversion process.
Speaking of the latest developments for Neuroscientists, Anna Paszulewicz, Product Specialist at Bitplane, said "With our new, innovative TorchTM tool, dynamically adjusted depth visibility and significantly improved big data handling at a terabyte level, 3D neuron tracing with Imaris is a wonderfully unique experience for all who are privileged to use it."
Further Information : http://www.imaris.com/newrelease