04 October 2016
Oxford Instruments systems now facilitate water purification technology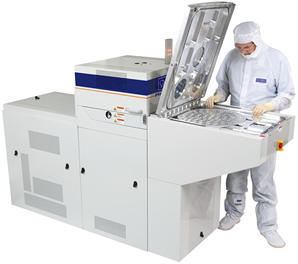 As key providers of leading edge process technology equipment for HBLED manufacture, Oxford Instruments has been a major part of the HBLED industry since its very beginning. Now the company's systems are being used to facilitate the introduction of UV LEDs, being utilised in water purification systems to bring safe drinking water to remote places.
Oxford Instruments PlasmaPro1000 Stratum PECVD tool is used for depositing high quality dielectrics essential in the manufacture of UV LEDs. The film quality, batch size and throughput make it an ideal tool to facilitate this latest technology. The systems are ideal for the production of UV LEDs as they can produce the thicker passivation layers that UV LEDs need to operate reliably at high powers while maintaining film quality and low cost of ownership. The batch size of upto 14 x 4" wafers is enabled by the chamber design which ensures each wafer within the batch achieves the same amount of high specification film deposition. Advanced tool technology ensures fast plasma clean of the chamber, which is automatically controlled through Optical Emission Spectroscopy (OES), and maximum yield and uptime are then realised.
"UV LEDs have several advantages over traditional UV light sources" comments Dr Mark Dineen, Optoelectronics Product Manager at Oxford Instruments Plasma Technology. "They operate at low DC power, meaning that they can be powered from a solar energy source. Combined with the fact that they are lighter and more robust than the traditional sources, this makes them ideally suited for use in remote, off grid locations where clean water supplies are limited or none existent."
"UV LED's are also tuned to the optimum wavelength for the removal of bacteria, making them significantly more effective in purifying water than traditional light sources. Lastly, UV LED's do not contain mercury, an essential component part of traditional UV lamps. Consequently there is a significant reduction in the environmental impact risk, through both accidental contamination and the need for recycling when comparing UV LED's and traditional UV lamps."
Oxford Instruments Plasma Technology continues to provide innovative high technology plasma processing solutions, powering today's advances and protecting tomorrow's environment.