19 Jun
Oxford Instruments congratulates Lancaster University for inaugurating the IsoLab, built for studying quantum systems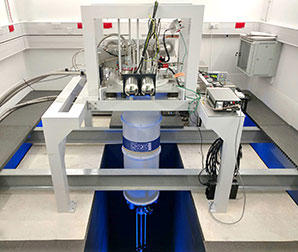 One of the most advanced facilities in the world for quantum technology, Lancaster University's IsoLab has been inaugurated by the Chief Executive of the Engineering and Physical Sciences Research Council (EPSRC).
Built completely to order, its unique features include three 50-ton platforms sitting inside a 350-ton concrete tank in order to drastically reduce any vibration, noise and electromagnetic disturbance. The laboratories provide the lowest temperatures available for cooling quantum systems that enable the operation of extremely sensitive quantum systems and devices for future technology.
Quantum science and technology provides new techniques for sensing, measurement, information processing, data transmission and storage. Using these techniques, the researchers are aiming to set new standards for fundamental quantum physics. The sophisticated facilities at IsoLab will allow the world-class team of researchers at Lancaster to study an impressive range of topics. IsoLab will also provide access to the global universities and industries dealing with quantum optics, nano-machinery, quantum encryption and extreme microscopy.
"Oxford Instruments provides researchers globally with state of the art and scalable tools and solutions for quantum and nanotechnology applications, having extensive relationships with both the worldwide research community, and companies bringing new commercial applications to market. The Cryofree® Triton dilution refrigerators are enabling new innovations and discoveries in quantum technology areas. We are delighted to be a part of IsoLab by supplying our new generation Triton dilution refrigerator, and supporting the vision of the University", said Ziad Melhem, the Alliance Manager from Oxford Instruments NanoScience.
"We need laboratories like IsoLab to test, characterise and further develop a whole range of new technologies based on quantum-enhanced sensing, imaging and measurement. The systems and states under study can be extremely fragile and delicate, and while we can drastically reduce vibration and noise, even then at room temperature some effects are masked by thermal agitation. Working with Oxford Instruments, we are cooling solid-state devices down to further isolate them from this noise and allow their quantum behaviour to shine through", said Richard Haley, the Director of IsoLab at Lancaster University.