27 Jul
Outstanding Imaging Recognised in 2023 Insight Awards
Oxford Instruments Andor Technology has today announced the three category winners for the 2023 Insight Awards, its flagship imaging competition that rewards visually stunning and scientifically captivating images.
The focus of the awards is on recognising the cutting-edge research carried out by scientists using Andor Technology equipment and software across both physical sciences and life sciences imaging. This year's entries utilised a spectrum of Andor products including spectrographs, sCMOS, CCD and EMCCD cameras, confocal microscopy systems, and image analysis software.
The winning entry in the Physical Sciences category was by Carel van Gend from the South African Astronomical Observatory, Cape Town, and the Life Sciences category was won by Cedric Yu from the University of California, San Francisco. Juan Antonio Moreno-Bravo (Institute of Neuroscience of Alicante) also won an award for receiving the highest number of public votes. All winners will receive Amazon vouchers worth $1,000.
"This year, we received a record number of submissions, and I was once again blown away by the quality of the images," said Andrew Dennis, Andor's Director of Product Management.
"I would like to recognise everyone who took time to submit an entry, and indeed our wider customer base, who are using our products to understand the world we live in and make it a better place. This competition clearly highlights the cutting-edge work that is being carried out across a wide range of applications. Congratulations in particular to Carel, Cedric, and Juan on their successes.
"I would also like to thank our expert judging panel, Dr. Holly Arron, University of California, Berkeley, and Dr. Vincent Motto-Ros, University of Lyon, France, who had the unenviable task of selecting winners from such a high number of outstanding submissions."
For further information on the Insight Awards winners or to view more scientifically captivating and visually stunning scientific images, graphics and movies please visit https://andor.oxinst.com/insight-awards.
Winning Entries
Physical Science Category: 'Pillars of Creation in the Eagle Nebula'
Carel van Gend, South African Astronomical Observatory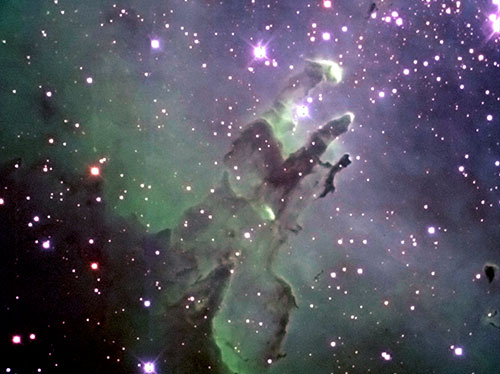 This is a wide-field view of the Eagle Nebula, showing the star-forming Pillars of Creation region. The image was taken using the new Mookodi (Sesotho for rainbow) instrument, which features Andor's iKon-M CCD camera, at the South African Astronomical Observatory.
Life Science Category: 'Innervation of the Mouse Embryonic Pancreas'
Cedric Yu, University of California, San Francisco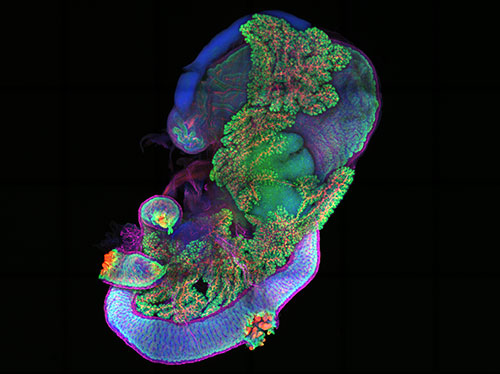 Wholemount immunofluorescence staining of a whole E16 mouse pancreas, with the spleen, stomach, and duodenum intact. The tissue was imaged using a confocal microscope by tiling and processed using Imaris Stitcher (9.9.1) and Imaris (9.9.1).
Entry with most public votes: 'Crossing the midline'
Juan Antonio Moreno-Bravo, Institute of Neuroscience of Alicante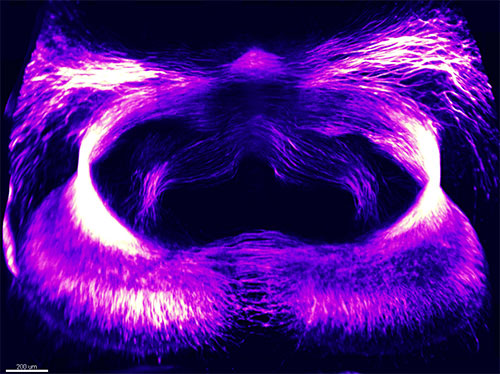 Cerebellar commissural axons extending dorso-ventrally and crossing the midline in a mouse brain from embryonic stage 13. The image was processed using Imaris (9.3.1).