18 November 2016
Electrochemical capabilities added to Cypher ES AFM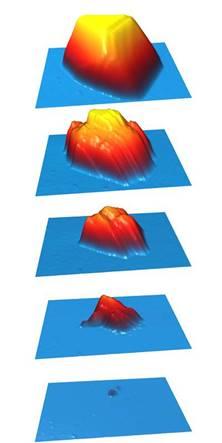 Nov. 18, 2016 (Santa Barbara, CA) Electrochemistry capabilities are now available on the Cypher ES Atomic Force Microscope (AFM), the highest resolution, fast-scanning AFM with environmental control. Oxford Instruments Asylum Research announces the availability of the new Electrochemistry Cell for studying electrochemical reactions in situ, including processes such as deposition, oxidation, corrosion, and mass transfer of metals and other materials at the nanoscale.
"The Electrochemistry Cell leverages the advanced performance of the Cypher ES AFM and adds impressive new functionality for electrochemistry investigations," said Dr. Iréne Revenko, Asylum Research Product Manager. "The Cypher ES with its Electrochemistry Cell is a robust, versatile, and easy-to-use tool that is ideal for AFM researchers looking to advance the performance of materials in the fields of energy storage, advanced materials, and even bioscience."
The Electrochemistry Cell features a robust design that is easy to assemble, disassemble, and clean. It enables dynamic experiments for diverse AFM experimental conditions:
Allows simultanous electrochemistry and heating/cooling for investigating EC thermodynamics
Supports a wide range of working electrode materials and sizes for a multitude of experimental conditions
Compatible with most conventional and cutting-edge electrolytes for novel research needs
Can be used with the choice of your favorite potentiostat
Glovebox compatible for ultimate environmental control with no performance compromises
Additional information and specifications on the Cypher ES Electrochemistry Cell can be found here.
Figure caption: AFM images showing electrochemical stripping of copper from a gold electrolyte in an acidic solution of 0.1 M copper sulfate, 2 µm scans, imaged with the Cypher ES with Electrochemistry Cell.