02 March 2017
Oxford Instruments Asylum Research Introduces Its New SurfRider "HQ-Series" of High Quality, Budget-Priced AFM Probes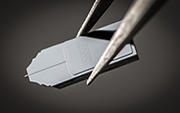 Oxford Instruments Asylum Research introduces its new SurfRider "HQ-Series" Atomic Force Microscopy (AFM) probes, offering best-in-class performance at budget pricing. HQ probes are high quality silicon probes exclusively manufactured by Asylum and can be used in all commercially-available AFMs. They offer greater ease-of-use, higher quality and improved consistency for repeatable measurements compared to other probes in their class.
Users can easily engage at the location of interest with controlled tip-to-cantilever registration. The vertical edges make the probes easier to handle with tweezers and reduce chipping. Models are available for all routine image modes such as tapping, force modulation, and contact modes as well as most of the nanomechanical modes. They are an ideal choice for routine AFM measurements, education, or use in multi-user facilities. HQ-Series probes are now available with 10% off introductory pricing on orders placed now through May 31, 2017. Purchasing information and specifications can be accessed at here.
"HQ probes are undoubtedly a better performing probe compared to other budget priced probes," said Teimour Maleki, Director of MEMS Development. "We encourage all AFM users to try them out with a free two-pack sample". Samples can be ordered from your regional probe store.