30 Apr
The current COVD-19 pandemic is only the latest case of a viral infection threatening human welfare. Even in normal times, viruses are a leading cause of disease in humans, other animals, and plants. Most viruses are between 20-250 nanometers in diameter. This demands microscopy techniques with higher resolution than what can be achieved by light microscopy. The new application note describes how the high-resolution imaging capabilities of Atomic Force Microscopes (AFMs) from Oxford Instruments Asylum Research are being used to study the structure and function of a wide variety of viruses.
Image caption: Two frames from a high-speed Cypher VRS video-rate AFM movie of Hepatitis B virus particles imaged at 0.2 frames/second. The movie shows dynamic changes in the orientation of proteins in the capsid shells.
Asylum Research AFMs are especially well-suited for the study of viruses and viral processes. The Cypher AFM product line readily achieves significantly higher resolution than most AFMs and provides simple, robust means of controlling the sample environment. More recently, the Cypher VRS introduced video-rate AFM imaging capabilities that allow processes to be observed at speeds exceeding ten frames per second. These capabilities make Asylum AFMs powerful tools for virology research.
For more information see https://afm.oxinst.com/virus-imaging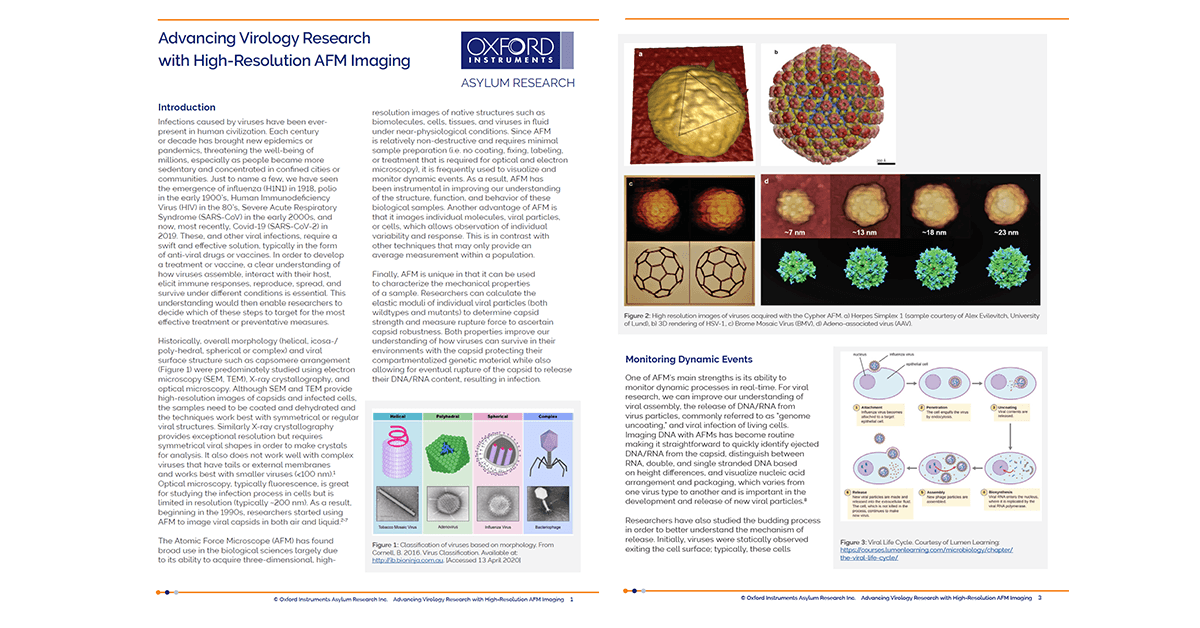 DOWNLOAD THE APP NOTE