18 Feb
Oxford Instruments Asylum Research Releases NanoRack In Situ Tensile and Compression Stage for Jupiter XR Atomic Force Microscope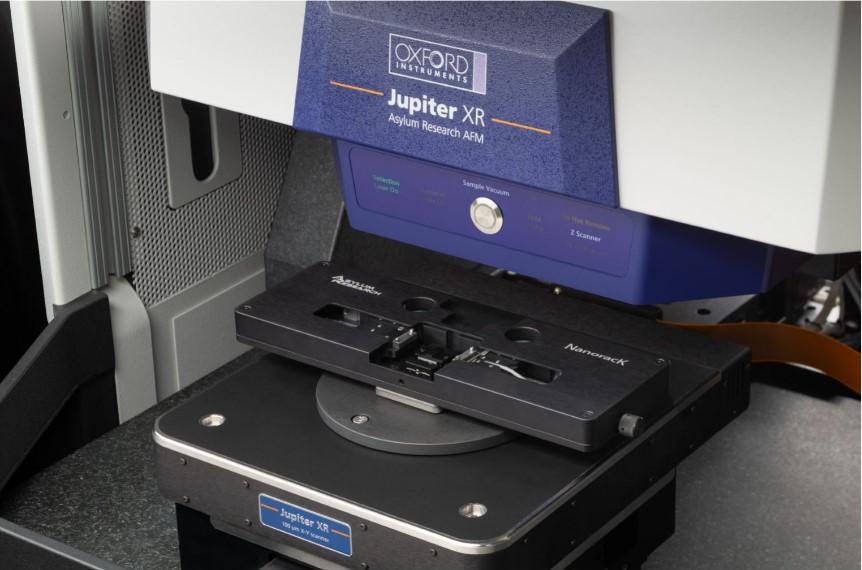 February 17th, 2021 (Santa Barbara, CA). Oxford Instruments Asylum Research is pleased to announce the release of the NanoRack in situ tensile and compression sample stage accessory for the Jupiter XR atomic force microscope (AFM). The NanoRack is a high-strain, high-travel stage that enables polymer films, fibers and other materials to be examined in situ by AFM under controlled tensile or compressive loads. For example, the polymer industry can use the NanoRack to investigate failure mechanisms due to interfacial delamination in composites and polymer blends.
"The NanoRack allows for real-life mechanical testing of materials while imaging the nanoscale changes on the AFM," commented Dr. Marta Kocun, Jupiter product line manager at Oxford Instruments Asylum Research, "This unique accessory will enable materials scientists to develop new advanced materials that are lighter, stronger, and greener."
For more information see: afm.oxinst.com/NanoRack

Image caption: NanoRack in situ tensile and compression sample stage accessory mounted on the Jupiter XR AFM.

Image caption: AFM images of an expanded polymer battery separator membrane prior and post stretching on the NanoRack sample accessory used on the Asylum Research Jupiter XR AFM.