06 August 2013
NanoAnalysis goes BIG at M&M 2013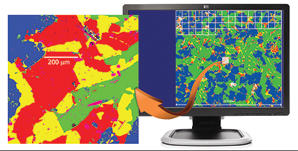 Oxford Instruments, a leading supplier of microanalysis systems, has launched four new modules for its AZtec Microanalysis System at M&M 2013. The new modules enable Large Area Mapping, the use of multiple X-MaxN SDD detectors on one SEM, easier re-location of samples in the microscope, and add a new 'refined accuracy' capability to its EBSD product
Large Area Mapping
AZtec Large Area Mapping enables the unattended collection of high resolution electron images and EDS / EBSD maps from large specimen areas. A dedicated wizard guides users through the setup process and ensures that even the most infrequent user can acquire a Large Area Map. Up to 1500 individual fields, each with a maximum resolution of 8K x 8K, and X-ray/EBSD maps with a maximum resolution of 4K x 4K automatically montage to create a dataset of up to 64 million pixels. At M&M, an EDS image was shown with a resolution of 12K x 10K pixels that covered a 3m wide wall.
Multiple EDS Detectors
Up to four X-MaxN detectors can now be used in parallel during data acquisition to create an effective active area of 600mm2. Such an enormous detector, almost a square inch in size, maximises sensitivity and speed for the most challenging samples.
Image Registration
In the new 'Image Registration' module, AZtec can take control of the microscope stage to seamlessly relocate to a previously registered point of interest. Any AZtec acquired image can be used for navigation i.e. users can quickly re-locate to previously registered points on another microscope, and an X-ray map can be used to navigate to an area rich in a particular element.
Refined Accuracy Algorithm - the Ultimate EBSD
Finally, a new and patent pending 'Refined Accuracy' algorithm was launched at the show. It extends traditional EBSD analysis to deliver unrivalled accuracy and level of detail. For example, it can be used to enhance boundary characterisation and identify subtle subgrain microstructures.
Oxford Instruments NanoAnalysis Marketing Director, Del Redfern, stated, "We continue to enhance AZtec with features that address the feedback and suggestions of our wide user community. These new features were thrilling AZtec users that saw them at the M&M exhibition".