10 Jan
Oxford Instruments - Andor has today released Imaris 10.0, the latest version of its market-leading microscopy image analysis software.
Imaris 10.0 revolutionises the well-known and trusted Filament Tracer, which has been used by the neuroscience community for over 15 years, leading to almost 700 scientific papers.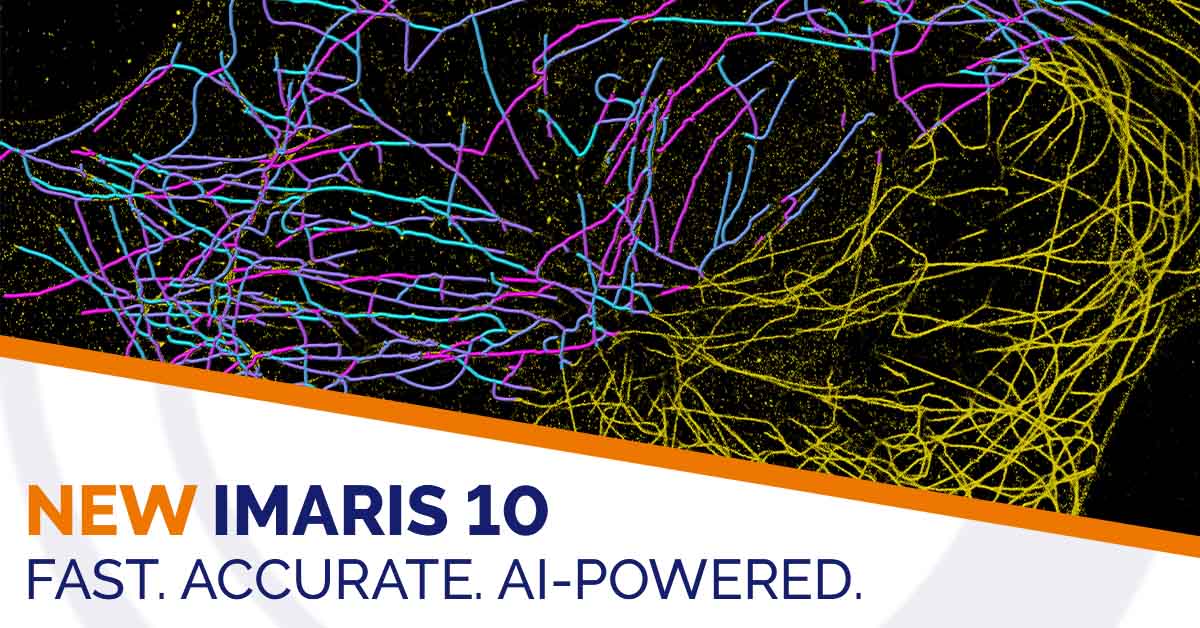 The new 10.0 Filament Tracer combines the versatility of an Autopath intensity-based method with a unique machine learning approach, providing the most flexible tool on the market for tracing a multitude of neuron types.
This Filament Tracer can resolve various structures, such as neurons, dendritic spines, microglia, blood vessels, endoplasmic reticulum*, and microtubules* within minutes. Creating filament models is very easy, even for non-experienced users, because they are guided via precisely designed wizards with the result previewed after each step. By following the wizard instructions accompanied with a few paintbrushes along the structures of interest, they are separated from the background.
What differentiates Imaris 10.0 from other packages is the enablement of automated distance measurements between filamentous structures and other stained objects. It's been measured to be faster by a factor of 5 than its predecessor and easily handles much bigger datasets.
Meredith Price, Software Manager for Oxford Instruments - Andor, says: "The advantage of Imaris 10.0 Filament tracer over the other popular approaches lies within its multi-purpose robust methods, which enable creation of proper filamentous models for various types of biology datasets, from neurons to tiny blood vessels. The fact that no prior training is needed means the tool can be used in a multitude of labs.
"The latest release greatly improves the speed of calculation and visualisation of the detected models, which is one of the most important factors for scientists regarding the size and complexity of datasets they are willing to analyse."
Imaris' goal is to bring researchers the most comprehensive visualisation and analysis software for 3D/4D and time-lapse microscopic images. It's notable that Imaris is inclusive for all available microscopy file formats and provides seamless conversion to native IMS, using Bio-Formats.
Users can download a 10-day free trial of Imaris to explore the software first-hand.
*Small structures can be traced and detected if the acquisition has been conducted with appropriate resolution, i.e. using Dragonfly 600 equipped with a High Power Laser Engine, which delivers high-power densities for single-molecule localization applications (SMLM) such as dSTORM and DNA-PAINT.