30 Jan
New Application Note Describes Electrochemical Atomic Force Microscopy for Understanding Corrosion Mechanisms at the Nanoscale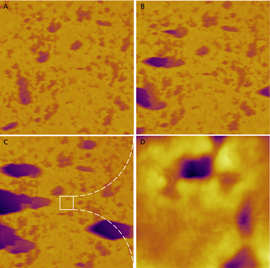 Combining an atomic force microscope (AFM) with electrochemical capabilities creates a powerful tool for studying corrosion, oxidation, and mass transfer of metals at the nanoscale. The new application note "Exploring Corrosion with Electrochemical AFM" from Oxford Instruments Asylum Research discusses how AFM can be used to study the nanoscale evolution of bias-dependent reactions in real time at the charge interface. Topics include how measurement environment is controlled to mimic real-world corrosion conditions; time-lapse examples of corrosion mechanisms; and how the unique capabilities of Asylum Research's Cypher ES with a fully-sealed EC cell, fast scanning, and blueDrive™ photothermal excitation greatly improve both spatial and temporal resolution. The application note can be downloaded here.
"Corrosion is a global infrastructure problem estimated to cost $2.5 trillion annually," said Dr. Nate Kirchhofer, Asylum Research Applications Scientist. "It is critical to understand nanoscale dynamics such as corrosion potentials, the nucleation and propagation behavior of defects, and electrochemical reaction rates so researchers and engineers can improve materials and designs to better withstand corrosion. It is estimated that 15-35% of that cost could be saved if corrosion control best practices and technology were implemented, and AFM is the ideal tool to help discover new solutions."
Figure caption: Images A-C show corrosion of a copper surface over ~ 5 minutes under oxidizing potential. 1 µm scan size. During this time, pits as deep as ~30 nm developed. Image D is a zoom of the area marked in image C. Scan size 25 nm.