26 April 2023
Oxford Instruments Asylum Research Releases Cypher ES Atomic Force Microscope Package for Battery Research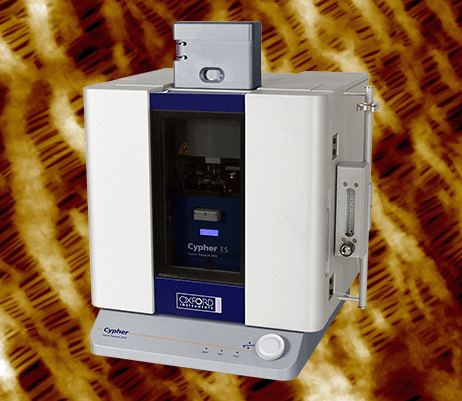 Oxford Instruments Asylum Research today announces the release of its new atomic force microscope (AFM) package developed for battery research, the Cypher ES Battery Edition. The configuration combines the ultra-high-performance Cypher ES AFM with an easy-to-use electrochemistry cell that enables a wide range of EC-AFM experiments. Performance features include fast scanning to enable capture of dynamic processes and unmatched stability and resolution even when integrated with a glovebox for lithium battery research.
"The Cypher ES Battery Edition is a versatile tool for optimizing battery performance and enabling nanoscale characterization of the electrode/electrolyte interface. For example, it can monitor the formation and stability of solid-electrolyte interphases (SEI) or probe electrical double-layer (EDL) structures," commented Dr. Ben Ohler, Senior Product Line Manager at Oxford Instruments Asylum Research.
Oxford Instruments offers a full range of complementary tools for battery research, including energy dispersive X-ray spectroscopy (EDS), nuclear magnetic resonance (NMR), and Raman imaging technologies pioneered by WITec GmbH. Raman microscopes can non-destructively identify battery materials and visualize their distribution, and correlative (Raman-SEM) instruments integrate chemical sensitivity with structural analysis for more comprehensive sample characterization.
For more information see https://afm.oxinst.com/cypher-battery-edition.
About Oxford Instruments Asylum Research
Oxford Instruments Asylum Research is the technology leader in atomic force microscopy for both materials and bioscience research. Asylum Research AFMs are widely used by both academic and industrial researchers for characterizing samples from diverse fields spanning material science, polymers, thin films, energy research, and biophysics. In addition to routine imaging of sample topography and roughness, Asylum Research AFMs also offer unmatched resolution and quantitative measurement capability for nanoelectrical, nanomechanical and electromechanical characterization. Recent advances have made these measurements far simpler and more automated for increased consistency and productivity. Its Cypher™, MFP-3D™, and Jupiter™ AFM product lines span a wide range of performance and budgets.
For further information please contact:
Akemi Ueki
Oxford Instruments Asylum Research Inc.
E: Akemi.Ueki@oxinst.com | T: +1-805-696-6466