10 March 2016
AZtecOneXT - a new standard of simplicity for EDS analysis.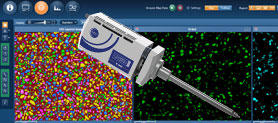 Oxford Instruments has launched the AZtecOneXT system, an ideal solution for those who want to perform a complex task like EDS as quickly and as easily as possible. The AZtecOneXT system is an addition to the class leading AZtec software platform and comprises the new AZtecOne software platform for EDS analysis and an x-act silicon drift detector.

The AZtecOne software has been designed to help users have all the necessary tools at hand to complete an analysis task quickly and with ease. The proven technology and reliability of Oxford Instruments software algorithms and hardware mean that not only are results easily obtained, but they are accurate and dependable.
A streamlined interface minimises the number of steps to get a result, new users can be productive in a matter of minutes, and there's no need for the infrequent user to be retrained every time they need to perform an analysis. Results can be easily exchanged between AZtecOne and the more powerful AZtecEnergy.
According to AZtec Product Manager, Anthony Hyde, "The AZtecOneXT system will allow a new range of users to benefit from the accuracy and power of Oxford Instruments EDS analysis technology. Even inexperienced users can get the 'right results first time' just seconds after launching the software."