24 Jul
Andor Launches Sona for Fluorescence Microscopy
The World's Most Sensitive Back-illuminated sCMOS Camera Platform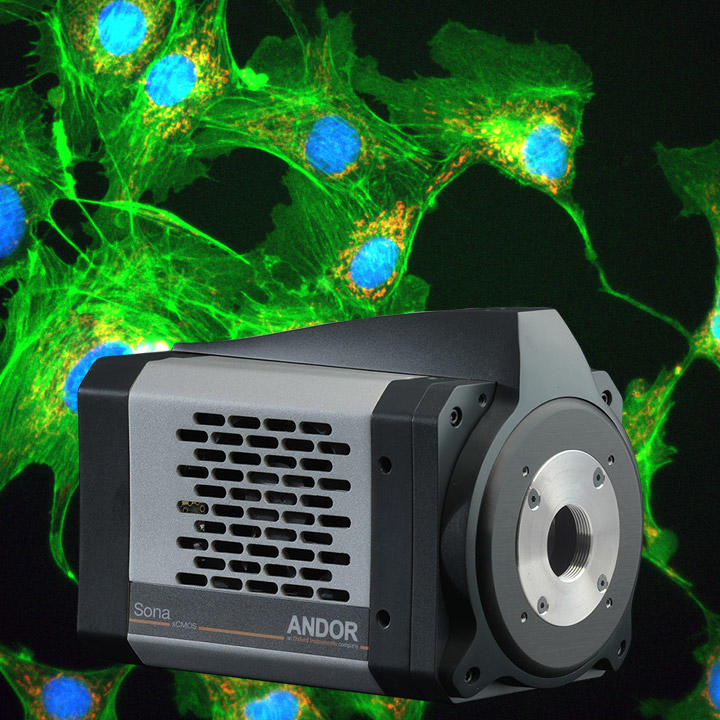 Andor Technology (Andor), an Oxford Instruments company and world leader in scientific imaging and spectroscopy solutions, today announced the launch of the new ultrasensitive Sona back-illuminated camera platform for fluorescence microscopy. Featuring 95% Quantum Efficiency and market-leading vacuum cooling down to -45 °C, Sona represents the ultimate in sCMOS sensitivity, meaning signal to noise can be optimized under reduced illumination conditions, thus preserving living cells during extended measurement periods. Sona also presents an exclusive solution for capturing extremely large fields of cells or whole embryos with exceptional clarity.
Sona is available in two formats, each with 11 µm pixel size. The 4.2 Megapixel flagship model, Sona 4.2B-11, utilizes a unique technology approach that enables access to the entire 2048 x 2048 array, offering an impressive 32mm sensor diagonal, harnessing the entire field of view available from the microscope. This highly flexible model is readily adaptable to a range of objective lens magnifications, from 100x down to 40x. This is perfect for applications that require maximum information content, allowing large fields of cells, whole embryos or tissue cultures to be captured with absolute clarity and maximum throughput. The Sona 2.0B-11 model features a 2 Megapixel array that is ideally sized to maximize the field of view available through modern 22mm C-mount microscope ports. Pre-configured and easily accessible ROIs directly match to various smaller microscope port sizes, making the Sona 2.0B-11 usable across multiple set-ups, fundamentally simplifying the process of selecting the right camera for your laboratory.
Sona delivers the highest and broadest sCMOS QE profile available, maximizing at 95%, ideally suited to a wide range of common fluorophores. The combination of back-illuminated QE, low read noise and Andor's innovative UltraVacTM vacuum cooling approach, facilitating -45 °C sensor temperature, render Sona the most sensitive back-illuminated sCMOS platform on the market.
Sona also outperforms in the area of quantitative measurement. A wide dynamic range of 53,000:1, superb for bright-weak samples such as neurons, is complemented by enhanced on-head intelligence to deliver market-leading response linearity of > 99.7%. The superior quantitative accuracy of Sona facilitates reliable measurement of local intracellular concentrations in applications such as FRET, ion signalling and gene expression analysis. The Sona platform also has exceptionally low fan vibration, meaning measurement precision will not be compromised in vibration sensitive set-ups such as super-resolution and electrophysiology.
Dr Colin Coates, Andor's Imaging Product Manager, said; "Sona 4.2B-11 and 2.0B-11 represent the first models to be introduced into our new Sona camera platform, developed from the ground up to be the most powerful yet adaptable scientific sCMOS camera for microscopy on the market. We have harnessed the concept of a highly sensitive back-illuminated sensor and adapted it to be THE most sensitive sCMOS camera available. The superior sensitivity of Sona renders it ideal for not only for preserving living cells throughout measurement, but also for reduction of fluorophore concentrations, thus minimally perturbing the cell's physiology."
Dr Philip Steen, Andor's Head of Technology, said; "With Sona, we have taken a steady and thorough development approach. The decision to develop a vacuum platform was not only motivated by pushing camera sensitivity, but also by the desire to radically improve performance lifetime. Andor's hermetic vacuum environment is the only way to protect the delicate and exposed sensor from attack by moisture and other gas contaminants, thus preserving both QE and cooling performance year after year."
For more information, please visit https://andor.oxinst.com/products/scmos-camera-series/sona-scmos