09 February, 2017
Andor Launches iXon Life for Fluorescence Microscopy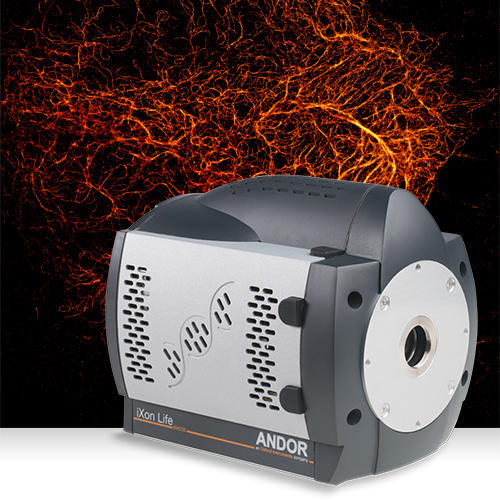 EMCCD Performance… sCMOS Price
Belfast, 09 February, 2017
Andor Technology (Andor), an Oxford Instruments company and world leader in scientific imaging and spectroscopy solutions, today announced the launch of the new ultrasensitive iXon Life Electron Multiplying CCD (EMCCD) camera platform, exclusively for fluorescence microscopy. Featuring single photon sensitive, back-illuminated EMCCD technology and overclocked to market leading frame rate performance, iXon Life is uniquely available within a highly accessible price bracket, normally associated with lower cost back-illuminated sCMOS technology.
Available in 1024 x 1024 and 512 x 512 sensor formats, back-illuminated to deliver the highest and broadest QE of any microscopy camera and deep cooled down to -80°C for minimal darkcurrent, iXon Life represents a way to access the ultimate detector technology for single molecule biophysics and low-light live cell microscopy, in a distinctly budget friendly platform.
Dr Colin Coates, Andor's Imaging Product Manager, said; "iXon Life EMCCD facilitates the use of the lowest possible excitation power while maintaining superb signal to noise ratio, thus minimizing phototoxic effects. Furthermore, in fluorescence microscopy's ongoing drive to push to lower and lower fluorophore concentrations in order not to perturb the physiology of the living cells being studied, no other camera technology is this suited to preserving your cell's physiological behaviour over extended periods of measurement. The EMCCD remains the ultimate detector for single molecule biophysics laboratories. Single molecule experiments present us with the considerable challenge of harnessing the limited photon budget from dynamic, individual fluorescent molecules, while also avoiding photobleaching. Andor iXon EMCCDs continue to radically out-perform sCMOS detectors in this most demanding of light starved application areas."
Further Information : https://andor.oxinst.com/products/ixon-emccd-cameras